What is the glamping essentials list for your luxury camping site? Opening a glamping business is all about giving your guests the opportunity to experience nature from the comfort of a safari tent, bell tent, or glamping dome. To make a good impression on potential glampers and attract lots of reservations, your glamping site should be cozy, unique, and well-planned. You must supply your guests with all the glamping essentials they might anticipate from a "hotel room" in the great outdoors.
A luxurious glamping site is more or less straightforward to build. However, in order for your guests to enjoy a comfortable stay, you need other essential facilities and accessories in addition to arranging furniture inside the tent. Glamping Hub provides the glamping essentials list below.
Decking and platforms are glamping essentials
Decking and platforms are typically used for permanent glamping sites. Tented accommodation is usually set up on wooden decking or platforms and provides guests with a clean, even living space, as well as keeps people from trampling the surrounding vegetation.
Adding decking for your bell tent, safari tent or glamping dome is what keeps it in good condition for a long time. This can be more expensive, but it is worth the extra time and money. Placing your accommodation on a wooden platform not only gives it a unique look but a well-built platform or deck will protect your accommodation from water and other damage, making it practical and long-lasting.
The benefits of decking are endless. It keeps your tent off the wet ground, speeds up canvas drying, and prevents the invasion of small critters, as well as mold from growing in hard-to-reach places. The raised platform also promotes air circulation, which aids in the drying of a damp canvas. In the case of a permanent glamping site, it offers plenty of room for laying water pipes and plumbing.
Prepare for weather changes — heating and cooling
Luxury safari tents, bell tents, and glamping domes are mostly used in the wild, and keeping the temperature inside the tent at a comfortable level is an important factor on the glamping essentials list. It's a good idea to plan for natural temperature swings so you can keep your guests as comfortable as possible throughout the year.
Glamping essentials in winter
A simple solution to help guard against colder temperatures on chilly evenings is to include a few extra blankets that guests can use when temperatures drop. However, you should think about a heat source as well. Pellet stoves and small propane heaters work well and most are equipped with safety features. You could also go all out and install a wood-burning stove to keep guests warm.
Additionally, a double-layer canvas can effectively block the heat loss in the tent. A great idea to extend the season is to consider using infrared heating. To evenly distribute heat in your glamping tent or dome, consider installing underfloor heating or ceiling-mounted heating covers. These infrared heating covers are compatible with both new and used glamping tents. However, only new glamping tents have infrared underfloor heating. These heating solutions are efficient, save space and money, and are the safest heating option for canvas accommodation.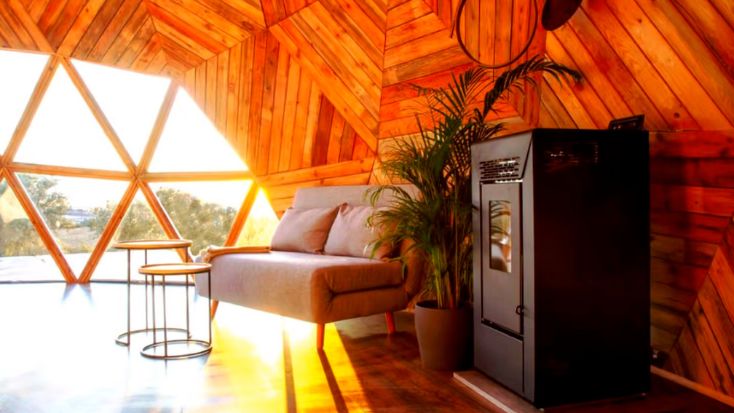 Glamping essentials in summer
The summer months bring with them sweltering summer sun, which is difficult to combat inside most glamping structures. Even with the screened windows and open doors, it can be difficult to get a breeze. Consider installing a rechargeable fan to help promote airflow. Additionally, a tent fly cover helps to keep the internal tent temperature cool on hot summer days and warm on cold nights. This cover can even be used to create a shade structure on its own. In addition to keeping your guests cool, the tent fly cover extends the life of your tent and makes cleaning easier.
Power supply and lighting
Electricity is usually included on the glamping essentials list, whether it's for an air conditioner, a water heater, or a table lamp. When your glamping accommodation is complete, electrical equipment can be powered by solar panels with the appropriate power supply. Depending on the power situation at your glamping location, you can use electric lights or camping lights at night. According to your needs as a glamping business owner and the needs of your guests, a tarpaulin wrapped outside the tent can be installed with lighting windows or glass curtain walls.
If you want your guests to have a perfect and comfortable outdoor luxury camping experience, then providing a power supply and lighting are glamping essentials you should consider.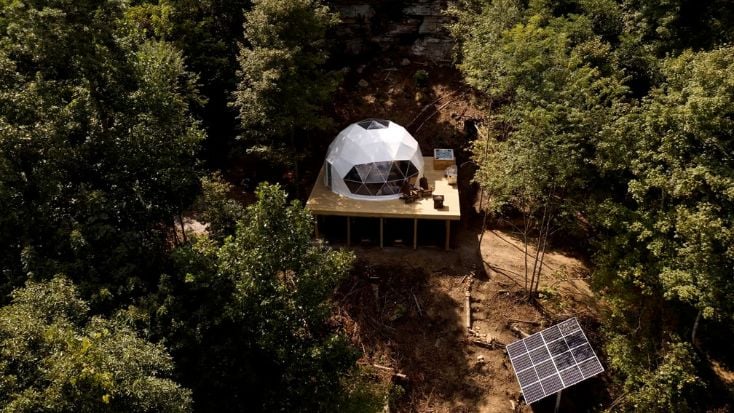 Adding bathroom facilities
The restroom isn't a glamorous amenity, but it's part of the glamping essentials list for attracting and keeping a full reservation calendar.
Toilets
Bathrooms can range from rustic to luxurious, depending on the infrastructure that is already in place or that you will invest in. Given that your guests will be camping, you won't need to go overboard here, but you should keep comfort and privacy in mind. There are several options that you could implement, including a standalone plumbed bathroom with running water for a more luxurious glamping site, a composting toilet, an outhouse, a "Port-a-Potty," and an RV toilet.
Showers
A hot shower, or a luxurious bath, is one of the best parts of camping because you appreciate it so much more when you have it as a luxury. The availability of a shower or bathtub will encourage your guests to stay for multiple nights. If a fully functional bathroom isn't an immediate option, you could consider a portable geyser system for a shower with privacy structures or a solar shower bag in a private tent or structure.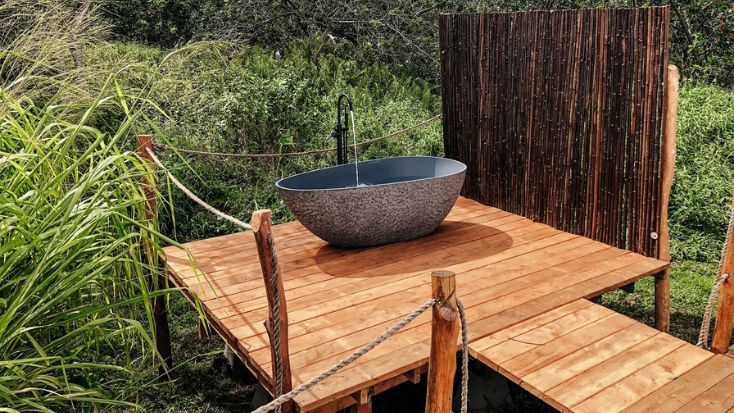 Final note
As this industry becomes more competitive, it is important that you know how to differentiate your company from the competition. Make use of your individuality and glamping essentials list to ensure the success of your big venture as it launches and grows. Remember to think about what your guests want and how you can entice them to stay with you year after year. This is quite often as much about the service you provide as it is about the variety of glamping essentials and options you provide so they can enjoy the glamping experience every time.