BeeWeaver Honey Farm and Glamping Hub have recently joined forces to create a new glamping site in Texas for a glamping experience like no other. The BeeWeaver Honey Farm glamping expansion shows off four outstanding safari tents set in the beautiful landscape of Lynn Grove, Navasota Texas. To say that life is sweet on the BeeWeaver Honey Farm is no exaggeration. Beeweaver is a working honey farm and provides glampers with a unique adventure for the whole family. The Weaver family has grown their Beekeeping business from its humble beginnings over 130 years ago to the thriving success it is today. From beekeeping and honey production to incorporating the Wildflyer Mead winery in 2020.
Discover Lynne Grove glamping in Texas
The Weavers are no strangers to finding ingenious and unique ways to grow BeeWeaver Honey Farm. Setting up a glamping site in 2022 is just another way the Weaver family is going the extra mile this year to add to their guest experience. How did this happy and successful collaboration come about? "As our farm has become more of a destination location for visitors we began researching new and unique ways to add more overnight stay options. We learned about Glamping Hub and the eye-catching Safari tents they offer and were immediately intrigued. The tents added a much-needed aesthetic to our farm, generate interest in anyone who sees them and has a soft footprint on the environment."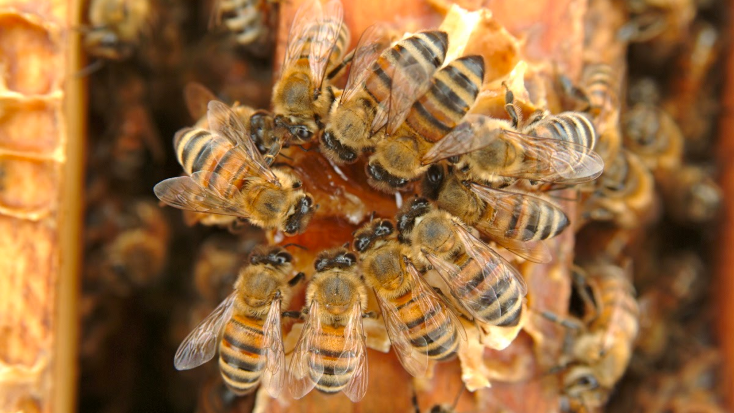 BeeWeaver Honey Farm, Navasota Texas
Bees and beekeeping have been a passion and livelihood for the Weaver family since 1888 when Florance and Zacariah (many great-grandmas and grandpas ago) started a side business after being gifted 10 bee colonies as a wedding present. Little did they know those colonies would go on to become a business still buzzing with activity four generations later. Fast forward more than a 100 years, and many more bee colonies, and you'll find honey and adventure still runs through the Weaver family's veins. Finding creative ways to produce the best Texas honey and provide family-friendly vacations to their guests all while growing their happy hive is second nature to the Weaver family.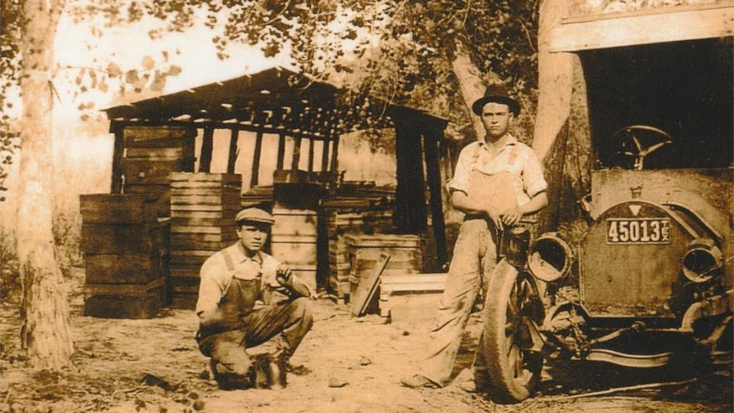 Wildflyer mead
One of these exciting expansions came in 2018 when the Weavers and the Murrays joined their talents in beekeeping, fresh honey production, and mead-making artistry to create Wildflyer Mead. Wildflyer Mead has created quite a buzz with its unique spin on traditional honey wine. Made from locally sourced, right next door in the Honey House, BeeWeaver honey and fresh seasonal fruit, most Wildflyer mead is seasonal. Wildflyer opened a mead tasting room on the BeeWeaver Honey Farm in 2020 where glampers can try their modern, bubbly mead variants.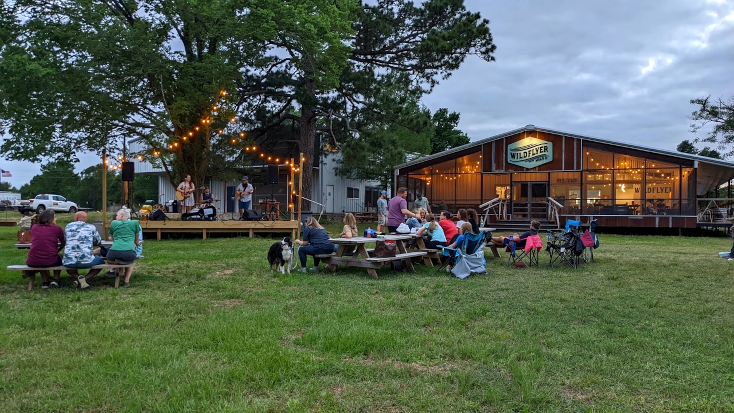 BeeWeaver Honey Farm, glamping expansion
Most recently these busy bees, have added glamping to their happy hive of activities. Here's what they are most looking forward to; "We envision our farm to be a gathering place for beekeepers, bee lovers, nature lovers, and other folks who just want to be outside and learn about honeybees. Our 4 new Glamping tents complete the circle of our farm and provide the feeling of community and camaraderie. While the tents give our guests a beautiful, comfortable private space, the focus is being outside, socializing with your tent mate and other guests. The tents are a focal point at our farm, and they have magnetic personalities that interest all visitors."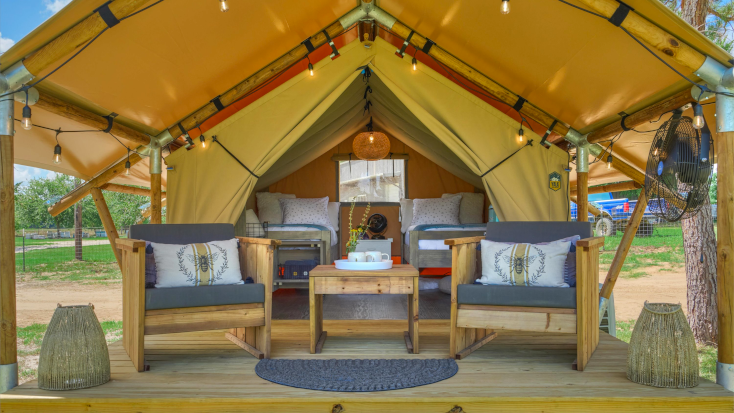 BeeWeaver Honey Farm glamping activities
Glampers at BeeWeaver Honey Farm can enjoy the best Texas honey and many unique activities for the whole family. From beekeeping experiences that include honey collecting to hive tours, and even honey cook-offs. And of course, satisfying your sweet tooth with the best fresh honey paired with pecan nuts and other delicious baked goods on the wide open porches of the Fly By Sip 'n Snack. There is the Annual Buzzfest, an interactive honey bee festival, normally held in May to enjoy. And increasingly popular Infuzzed, which is coming up on Saturday the 24th of September, to celebrate national honey month 2022. What better way to celebrate all things honey in fuzzed than with live music, tours, tasting, and a sweet stay at the new BeeWeaver Honey Farm glamping site? Bunk down in one of the delightfully named luxury safari tents.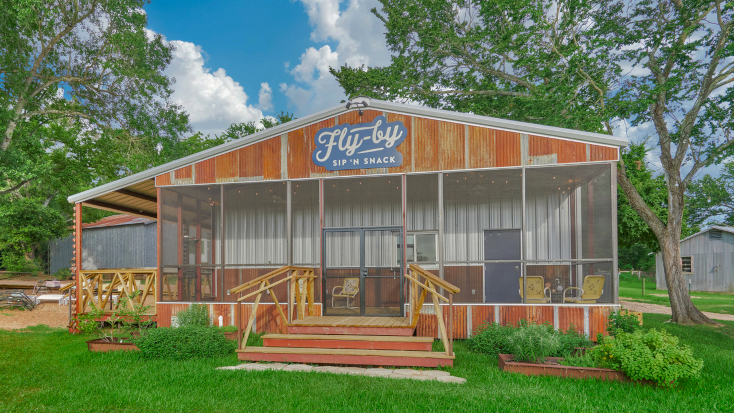 Family-friendly glamping
Glampers have a choice of four large safari tents, to book. Each tent comes with a private deck and seating space overlooking the picnic area and caters to family and pet-friendly glamping. You can choose between the Hive Check or All That Glitters, both with special beds for your canine friends as well as two twin beds each.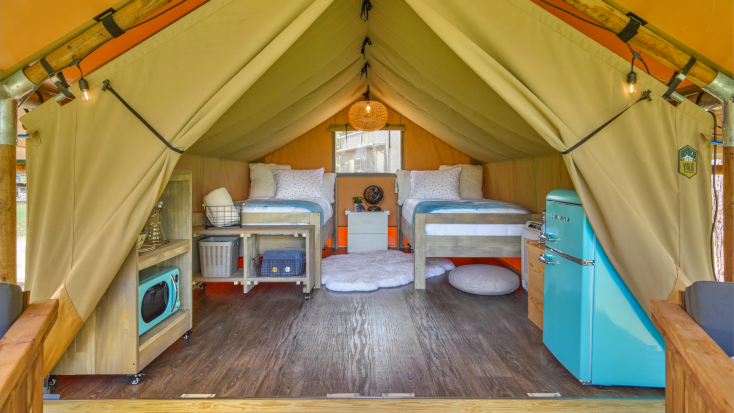 In A Meading and Thistle Bee Fun come with queen-sized beds. Of course, it isn't glamping unless you have all the fun of camping combined with all the comforts (and luxuries) of home, so all tents come with wi-fi, air-conditioning, and heating as well as lovely linens, towels, and bathroom products. The tents also have a fridge, coffee station, and microwave.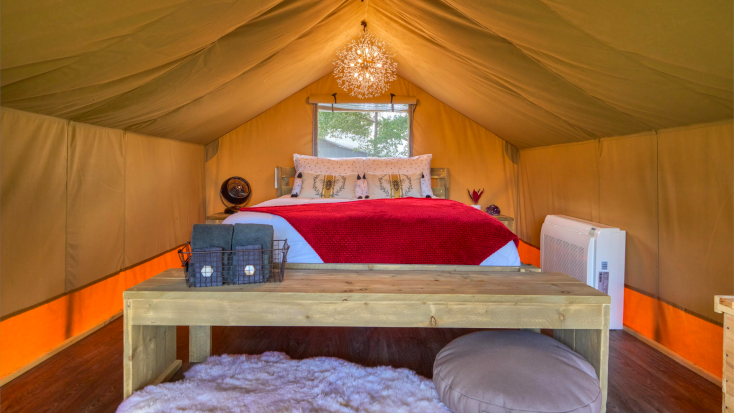 Wondering how to start a glamping business yourself?
Glamping is one of the fastest-growing sectors in the travel industry and it's no surprise that the Weavers would add this fun option to their business. So how do you go about starting your own successful glamping business and tapping into this fast-growing sector? It's really much more straightforward than you might think.
Setting up a glamping site in addition to your existing business or from scratch is an effective way to increase your revenue exponentially and it's also quick and easy in comparison to other options. Whether you are brand new to glamping, want to add glamping to your existing business, or are an old hand at glamping, at Develop with Glamping Hub you can be up and running, welcoming your first happy glampers in a matter of months.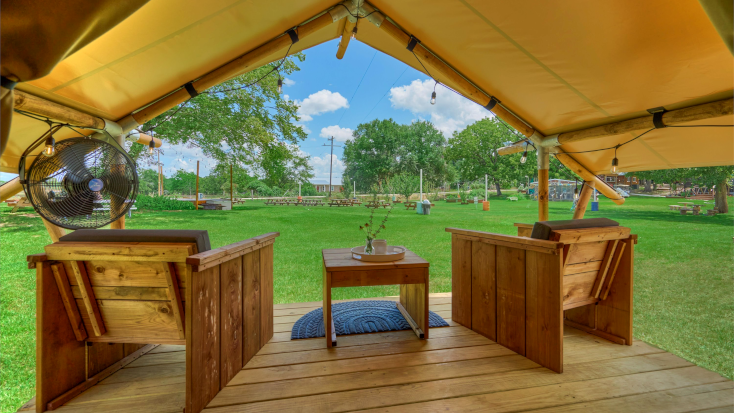 Develop with Glamping Hub
We're not kidding, turn around time is only 3 months, and to sweeten the deal, it's pretty much hassle-free. Find out just how easy it really is. We've done the homework and got the answers to all of your questions: which glamping options are the most popular with glampers? What type of glamping will match my vision, my land, and seasonality; bell tents, wall tents, safari tents, or domes? What add-ons would draw more glampers to my glampsite? How much should I charge once glampers arrive en masse? And how do I get them to my new glamping site? You don't have to; we'll get the glampers to come to you, via Glamping Hub, setting you up on other booking platforms and our social media. And what about contractors and setting up? We help you with all the heavy lifting and logistics, so you get to do the fun stuff. Don't worry, we take care of the setup for you. And permits and insurance – we can help you with those questions too. We can even tell you what return on investment to expect.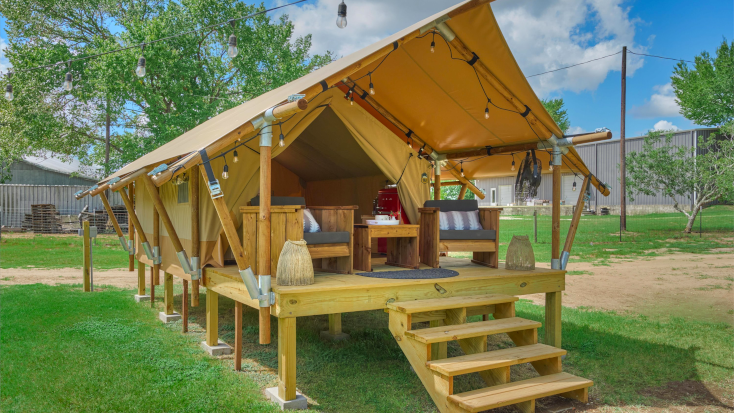 Glamping made easy
Can it really be that simple? Absolutely! "Every step along the way with Glamping Hub has been positive, and as we moved through the process we felt we were always making progress. When questions, concerns, changes, or issues presented themselves each associate promptly worked through the challenges with us. Now we are taking bookings and continue to have the same great service, positive experience, and working relationship." – The BeeWeavers
You've got nothing to lose and everything to gain – learn more and join the global community of glamping hosts, you'll be welcoming your first glampers well before the festive season.