When we first began to consider the idea of RV living and travel, we had no idea where to look for inspiration and resources. It was 2017 and there was still minimal visibility of women in the RV industry and travel spaces. Vanlife culture had not yet exploded on social media for the younger generation. We falsely assumed we were the only millennial couple living and traveling in a way that seemed reserved for the retired. One afternoon while hiking Hurricane Hill in Olympic National Park we met another couple in their thirties who had just gotten married and were traveling the country together full-time in their RV. We remember being both stunned and inspired because we had no idea that young people did such things! 
With our desire to travel and be outdoors always as our top priorities, we began to wonder if living in an RV could also work for us. It took us a full year to research, save money, and sell most of our belongings. We purchased our first RV and began exploring the east coast, from Maine to Florida.
We faced all sorts of challenges and setbacks during our first year. We had selected a brand new 35-foot Class A RV to be our rolling home, and it turned out to be all wrong for us. The floorplan didn't accommodate our lifestyle needs. There was no separation of space for times when we were both working. There wasn't enough storage for our growing small business, and the kitchen was totally non-functional for cooking, an activity Danella enjoys. We had also falsely assumed that a brand new RV would have minimal problems and malfunctions. This was probably our biggest error in thinking. We almost immediately had total furnace failure, air conditioners that were leaking into our bedroom, and blah blah blah. Danella was ready to send the RV off a cliff and rent an apartment again. We had not yet found our flow and we had no idea to whom to turn for help and resources. Absolutely no one prepared us for how much time we would spend on problem-solving. We were spending weeks sleeping at dealerships and repair shops. This was not the travel lifestyle or our dreams.
In our second year of travel we made some big changes to how we were living and traveling. The most dramatic of these changes was the decision to swap out our class a motorhome for a 42-foot fifth wheel. With the increased space and storage we had so much more functionality for day to day living. We also slowed down. We had been changing our location every one to two weeks, but that pace had us feeling like we could never thoroughly enjoy and explore a particular area. Instead we started camping out in one spot for weeks to months at a time. The traveling became more enjoyable.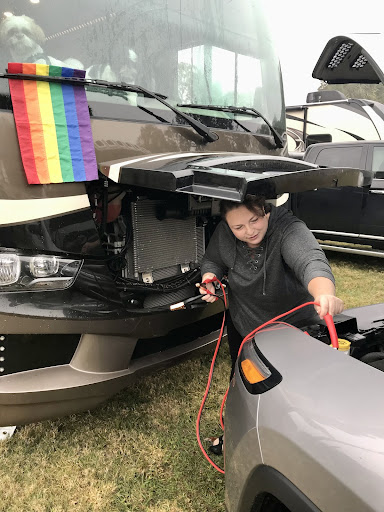 It also became easier in our second year to work on the road, as we learned more tools and tricks for setting up the best internet in a small, moving space. We were both teaching English to kids in China, but this sort of work wasn't aligning with our goals or dreams. We sought professional connections within the RV and travel industries and we began  writing blog articles and creating short form videos on social media. It was important to us that our voices and experiences as female RV travelers, and gay women, be heard.
Visibility is important because you can't become what you can't see. Young girls and women need to see adult women living and thriving in environments that have previously been (and still are)  male-dominated. We teach women and  LGBTQ+  people that they can gain the skills and confidence to drive a giant truck, to dump and flush their own tanks, to haul a 42-foot home through major US cities and across the entire country.
The more we hitched and hauled our rolling home, the more we became passionate about the lifestyle and sharing it with others. But we were still hearing from women over and over again that they "could never" drive their truck, hitch their rig, haul it, flush it, or dump it.
Entering our third nomadic year with increased skills and confidence we began to focus some of our energy into documenting our RV lifestyle on social media. We wanted to empower other women to follow their dreams of doing the same. Danella spent hundreds of hours on YouTube learning the ins and outs of fifth wheel maintenance. We slowly began to build connections with women all over the country who were living and traveling in homes on wheels.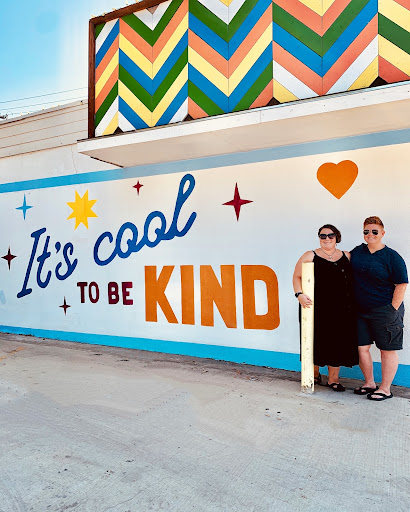 During the pandemic we began to offer virtual consultations for women and queer people who were curious about transiting to RV living and a location independent life. Our Zoom Chats covered topics like how to select an RV that will best suit your needs and wants, how to find places to camp, finding work on the road, and how to co-exist peacefully in a small space. (Spoiler alert! That last one is harder than you think).
Now that we are in our fifth year of full time RV living, we are planning more adventurous camping experiences, like boondocking. With the recent purchase of a brand new generator we will now have the ability to camp in places that were previously inaccessible to us due to water and power needs. 
We are so pleased to see so much more visibility in the travel and RV communities. Solo female travel has exploded and we are continuously empowered by all the badass women and LGBTQ+ travelers we meet on the road and in our socials. 
Happy Women's History Month!