Vacation cabins are our favorite go-to when planning a family getaway for the holidays or school break. They are the perfect choice at any time of the year! Find cabins for winter skiing, cozy fireside relaxation, and Christmas cheer. Alternatively, look for lakeside cabins in summer to enjoy water sports, swimming fun, and fishing adventure! These cabins are ideal for your next family getaway with all the amenities you need for the best family vacation. Find your favorite cabin getaway in Pennsylvania!
1. Mountain rental in Lake Harmony, Pennsylvania
What's better than a relaxing family getaway in the Pocono Mountains at a vacation cabin? Throw in Lake Harmony access and you have the perfect recipe for a summer family vacation! The vacation cabin sleeps 8, and has a full kitchen, and outside BBQ. Kids and adults alike will love the recreational area with mini golf, basketball, baseball, and swimming in the lake. Wake up to fresh air in this holiday rental, spend the day outdoors on the lakeside, or hike in the mountains. For winter holidays the cabin boasts a lovely indoor fireplace for a cozy with family after a long day enjoying skiing at Big Boulder Mountain and Ski area.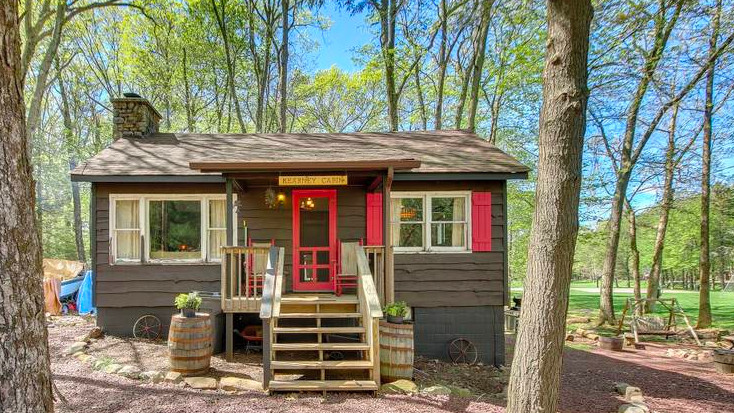 2. Perfect log rental for a family trip to the Poconos, PA
Adventure-loving families will love this vacation cabin in Canadensis, Pennsylvania. The log cabin rental sleeps 7-10 guests. There is a covered porch to enjoy a morning coffee, a charcoal grill, and a picnic area for a fun family cookout. The children will love being close to Delaware Water Gap National Recreation Area for summer fun as well as Bushkill Falls. Where guests can explore the many waterfalls, fishing, boating, and hiking. For adventure lovers, winter is a great time to visit Pennsylvania with opportunities for fast-paced skiing and snowboarding!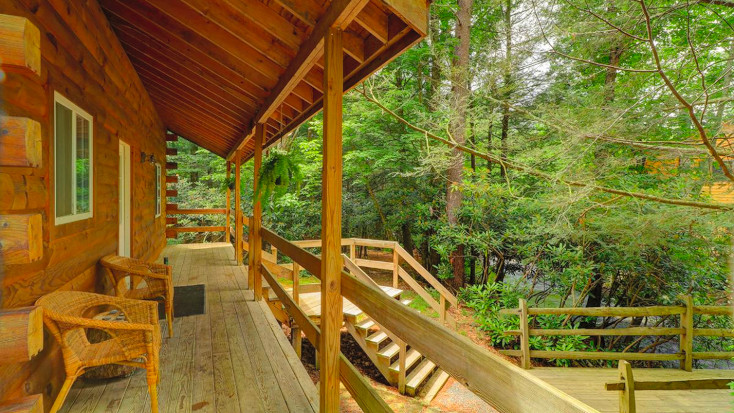 3. Pet-friendly vacation cabin near Lake Erie, Pennsylvania
Take the whole family, including the fur-balls, on a family getaway when you stay in this fun cabin rental. Located in Edinboro, Pennsylvania, there are 13 cabins in this glamping resort, PA. Each lakefront cabin rental sleeps up to 6 guests. You can book a single cabin or several if you are planning a large family gathering this summer. You will love all the water sports, from swimming, canoeing, stand-up paddle boarding to fishing. Adults will enjoy relaxing with a good book in the hammocks strung between the trees and enjoying the fire pit over the lake. book your perfect vacation cabin today!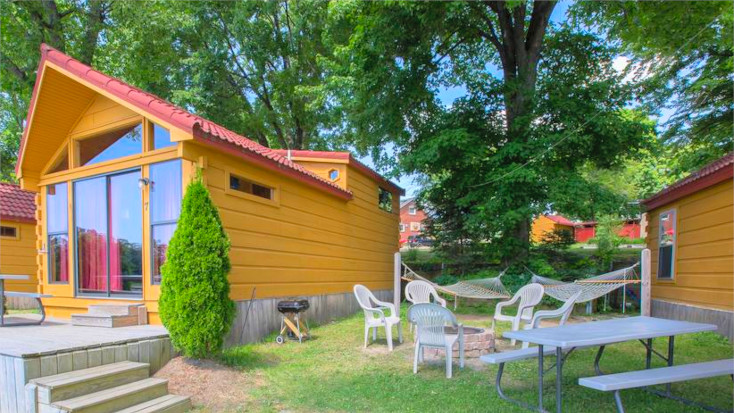 4. Riverfront rental with private beach near Confluence, PA
You name it this vacation cabin rental has it all! The riverfront cabin is located on the Youghiogheny River near Pittsburgh, Pennsylvania sleeps 6 guests. The property has a large deck, garden, and lawn area, a private beach, and incredible river views. Pets are welcome, so the whole family can enjoy waking up in nature and exploring the surrounding area. You will love winter sports, water sports in summer, and adventure activities from climbing and zip-lining, to whitewater rafting, and sailing. This is the perfect vacation cabin for a family getaway in Pennsylvania, whether you love adventure or rest and relaxation.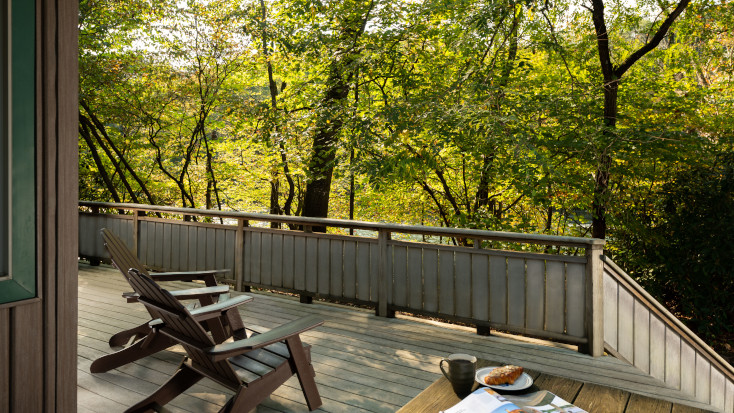 5. Cosy vacation cabin in Gettysburg for a fun weekend trip in Pennsylvania
Looking for a vacation rental near Gettysburg and Ski Liberty? This modern vacation cabin near Chesapeake & Ohio Canal National Historical Park is perfect for your next family trip! The cabin rental sleeps 6 and has a great patio with views of Marsh Creek. It is perfect for wildlife and bird watching. Head outdoors and enjoy the hiking trails, biking, and horseback riding nearby at Gettysburg National Military Park. If you're a family who loves a relaxing outdoor family getaway this cabin near Middletown is perfect!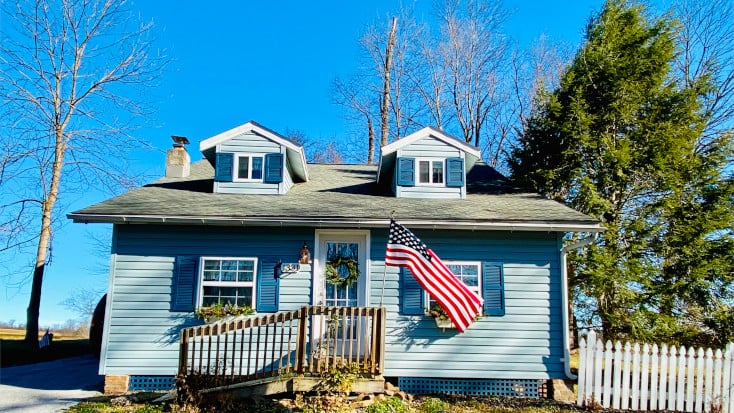 Plan your next family vacation with one of these fun treehouse rentals. Head out to an adventure park or get ready for a fun hiking holiday with the whole family.